Not Even Dark Chocolate Can Fix This Mess!
by Kathy Eliscu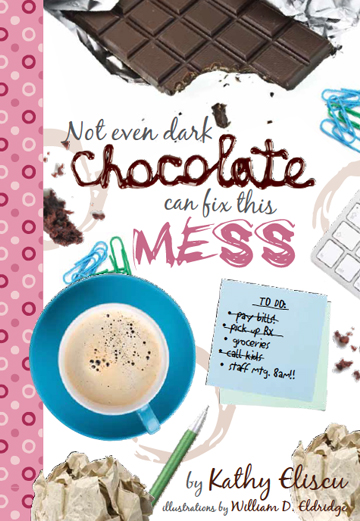 Somewhere in Maine, a middle-aged woman is having a serious temper tantrum. "Tink" Casawill is drowning in family and work demands, hormones, a fiancé oblivious to another woman's flirtations, and…her doctor tells her to cut out caffeine. (WHAT?!?)
While attempting to do a good deed, Tink's life spins out of control and now, "Not Even Dark Chocolate Can Fix This Mess!"
"Please turn these pages very gently. I just had a two-hour nervous breakdown. My PMS dropped the P, and although I'm feeling better and have made the proper restitution with both my fiancé and the hinges on one of our kitchen drawers, I am still a little touchy. You would be, too, if on top of the hormones, your new GYN told you to cut back on the caffeine."
"It's amazing how complicated some things are that don't need to be, like some public bathrooms that have double-decker toilet paper rolls inside the metal dispenser. You know, the kind that has a life force of its own. The top roll rests right on top of the bottom roll. I guess there's supposed to be a space between them. But there isn't. You see the end of the roll between them and pull. Suddenly, there are two lines of paper coming out from between them. The rule is, I think, to use the lower one first. Or is it the upper one. Well—you push the upper roll up an inch, holding it in place as you try to break off a decent-sized piece from the lower roll. Now, pull! One square. All this, and you're using both hands and you're all twisted off to the side. And you're holding up your skirt, or long sweater, or jacket at the same time. And hovering. You'd better be. Didn't your mother warn you about toilets seats?!"
Click the button below to purchase this book:
If you prefer to order it on Amazon, click here.
BIG NEWS!!!
Kathy's story "Unpacking Christmas" is in the new Chicken Soup for the Soul: The Wonder of Christmas! Details below!! Chicken Soup for the Soul: The Wonder of Christmas is a lovely collection of 101 true stories, from hilarious to sweet and sentimental, capturing those special holiday moments.
EVENTS COMING UP:
BOOK SIGNINGS for "…Dark Chocolate…" &/or Chicken Soup for the Soul: The Wonder of Christmas: (Note: please check back for any changes prior to events!) (and also, which books are being signed at each event) (and do you see how much I love parentheses?!?)
Saturday, Nov. 17, from 12noon – 2pm, signing copies of Not Even Dark Chocolate Can Fix This Mess at the Maine Harvest Festival, Maine Authors Publishing booth, Cross Insurance Ctr, Bangor. This is a HUGE festival, lots of wonderful vendors, ticket info: call 800-745-3000 or https://www.maineharvestfestival.com/untitled
Sunday, November 18, from 10am – 2pm, signing both books at "Ice It! Bakery", 502 Stevens Ave., Portland – a lovely bakery with yummy goodies and great coffee. I'm so excited – for this event, I am delighted to donate a portion of the proceeds to benefit McAuley Residence for women in Portland. Please tell your friends! Ice It! Bakery is offering free hot chocolate samples during the signing!
Saturday, November 24, from 10am – 3pm, Small Business Saturday, Westbrook, Maine, located at "Presumpscot Place", 22 Foster St. (behind My Place Teen Center.) Tell your friends & neighbors & support local businesses!! I will have both books with me.
Saturday, December 1, from 9am – 2pm, Operation Ray of Light, supporting American Veterans and their families, at St. Ignatius Gym, 25 River St., Sanford, Maine – local crafters/vendors, 50-50 raffle, silent auction, & food!!! I will be sharing a booth with Irene Drago, author of "Daughters of Long Reach." Come have some fun & support a worthy cause! I will have both books with me.
Saturday, Dec. 8, 8:30 to 2pm, St. John's School Christmas Craft show, held in the hall at St. Charles Borromeo Church, Brunswick, Maine. This is a big artist/crafts fair, food, lots of fun stuff! Come find me at my table! I will be signing Chicken Soup for the Soul: The Wonder of Christmas!
Tuesday, Dec. 11, from 2pm – 6pm, I will be at the Walker Memorial Library Holiday Party, 800 Main St., Westbrook, Maine, signing copies of both books. At 1pm, there is a brief dedication of the new Eleanor Conant Saunders Reading Room. Raffles, party food, fun!
Friday, Dec. 14, from 11am – 2pm, I will be at IHOP, 195 Main Mall Rd, South Portland, signing copies of Chicken Soup for the Soul: The Wonder of Christmas. Come say hello, buy yourself a signed book, and dream of pancakes…
Saturday, December 15, from 1pm-3pm, Letterpress Books, 91 Auburn St., Portland, Maine (Northgate Shopping Center) – Come on in to this exquisite book store! I will be signing copies of both books. And yes, there will be chocolate!
Sunday, Dec. 16, from 12noon – 2pm, at the Vintage Bazaar at Thompson's Point, Portland, Maine, I will sign copies of Not Even Dark Chocolate Can Fix This Mess, at the Maine Authors Publishing table. See you there!
Friday Dec. 21, from 1pm – 6pm, at On The Vine Market, 591 US Rt. 1, Scarborough, Maine, I will sign copies of both books. A portion of the proceeds will be donated to Hospice of Southern Maine!
Note:

I continue to book speaking engagements at clubs, groups, libraries, and charitable events. Please contact me directly at keliscu@maine.rr.com – Thanks!
~ ~ ~ ~ ~ ~ ~ ~ ~ ~ ~ ~  ~ ~  ~ ~ ~ ~ ~ ~  ~ ~ ~ ~ ~ ~ ~
Happy Fall! Order "Not Even Dark Chocolate…" for yourself, your female relatives and friends over the age of whatever-is-the-acceptable-age-to-hear-bad-words, and for evolved males who like to laugh!! It's a GREAT birthday, retirement, holiday, any-day gift!
CHICKEN SOUP FOR THE SOUL: THE WONDER OF CHRISTMAS is family-friendly!
Massachusetts readers – Westwinds Bookshop in Duxbury, MA now carries Not Even Dark Chocolate Can Fix This Mess. Thank you to Lydia & Jane who run this FABULOUS shop!!
NEW YORKERS!!!  The following AWESOME book store now carries Not Even Dark Chocolate Can Fix This Mess:
~Book Culture, 536 West 112th St,. NY, NY    
AVAILABLE in NEARLY all BOOKSTORES in MAINE, incl.:
Letterpress Books, Portland; Print: A Bookstore, Portland, ME; Longfellow Books, Portland; Sherman Book stores – all locations; Nonesuch, all locations; The Tribune, Norway; Book Review, Falmouth, ME; Book Burrow, Kennebunk, ME ("Lower Village"); Fine Print Booksellers, Kennebunkport; the Poland Spring Resort gift shop; Center for Maine Craft, West Gardiner; and many more… A HUGE thank-you to these and other bookstores not listed here! If your bookstore is out of copies, they can order them pronto, or you can order online (see above.)
Please support your local indie bookstores!
Southern Maine peeps: I am available to chat with your book club if arranged in advance. Please connect with me via my email: keliscu@maine.rr.com – There are some guidelines (like providing me with dessert and, oh, the club members need to buy the book, read it, and then we chat and no one mentions that I look like I've had one too many desserts…)

Occasionally I can do these events outside of Maine. We'll talk.
Contact me at: keliscu@maine.rr.com 
RADIO!! I was honored and so happy to be interviewed by John McDonald, Maine's Storyteller and author, on Sunday, July 12, 2015, during his morning show on WGAN AM 560 on the dial. I had so much fun! Hear the podcast at http://wgan.com/podcasts/kathy-eliscu-7-12/ – oh, and ignore the part where I gave the wrong date for the Beyond The Sea book festival 2015. Apparently the coffee hadn't kicked in yet.
So happy to hear from readers that this novel is being enjoyed! If you wish, I would love great reviews on Amazon and Goodreads. Thank you!
Proud member: Maine Writers and Publishers Alliance & the National Society of Newspaper Columnists!

About the Author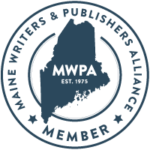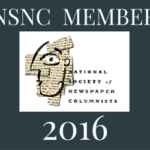 Kathy Eliscu is a retired RN and humor writer whose column "Lightly Roasted"  has earned her two National Society of Newspaper Columnists awards –  in 2012 and 2018! Her work has appeared in Maine Women magazine, My Generation Maine magazine, the Maine Sunday Telegram, Employment Times, and Advance for Nurses. When she's not writing, she can be seen searching for the perfect dessert.
WILLIAM D. ELDRIDGE, cartoonist, has retired from working in the mental health field. He lives at his farm in West Poland, Maine, and is working full time as an artist.